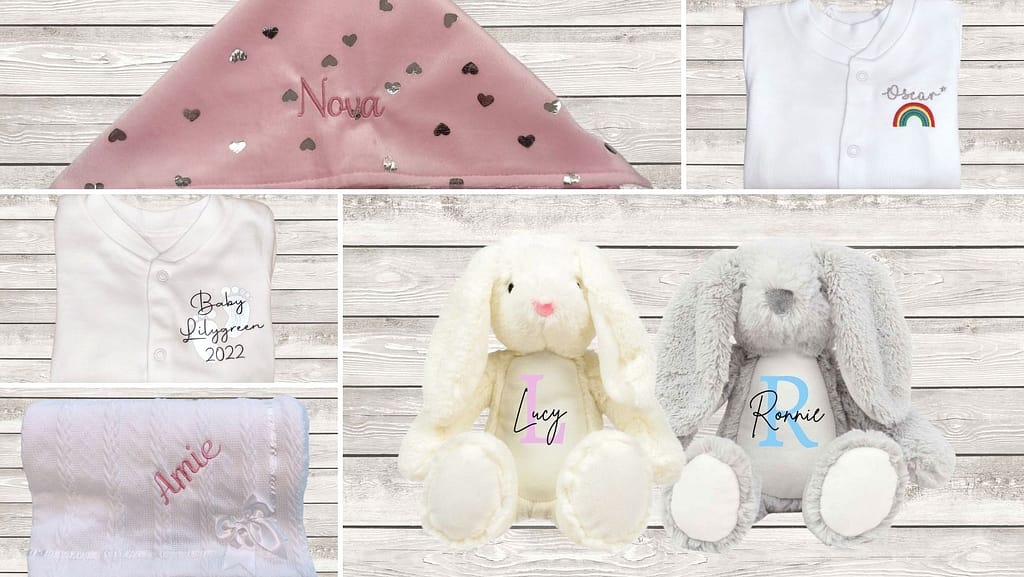 What to buy as a Baby Gift?
Deciding what to buy as a baby gift can cause all kinds of headaches for anyone want to treat a new arrival. Here at We Three Bears we are going to try help you with that, and offer a number of different suggestions which will be perfect to buy as a Baby gift. Whether you are looking for a baby shower gift, new baby gift, or a coming home outfit, we have all the bases covered.
We Three Bears specialise in personalised baby gifts and clothing and apply all personalisation using either Embroidery, Vinyl or Sublimation. All applied by ourselves using only the highest quality materials and using professional machines. Although we have hundreds of different products on our website we can always offer custom orders so please feel free to get in touch with any of your own unique baby gift ideas you may have.
Now lets get in to helping you decide what to buy as a baby gift.
Personalised Baby Sleepsuits
Our personalised sleepsuits are one of our best selling pieces of baby clothing.
A sleepsuit is perfect as either a personalised gift for a new arrival who has not made an appearance yet, for a new baby who has just been born, or even as a 1st birthday gift.
We have a fantastic choice of custom baby sleepsuits which can all be personalised with your choice of name, initials and design.
Our personalised baby sleepsuits are made from 100% cotton which means they are super soft on your baby's skin. Sizes range from Newborn up to 18-24 months. A piece of personalised baby clothing is a great idea as a baby gift as it is also something that can be cherished even when it has been outgrown and can be kept in a baby memory box.
Some of our most popular designs include our Bear Face, Rainbow, Initials and name sleepsuits, with many others to choose from.
Personalised Soft Toys
Unique soft toys such as a Personalised Bunny, Teddy Bear, Unicorn or Rag Doll is another excellent idea to buy as a baby gift.
Babies have always loved cuddling up to a super soft toy, so when you next ask yourself 'What to buy as a baby gift?' A personalised soft toy should be top of your list.
We have a large range of personalised soft toys available at We Three Bears. We cover all of yours and a baby's favourites which includes bunnies, teddy bears, unicorns and rag dolls. Our personalised bunny rabbits are one of our best sellers. We have our cute bunnies available in a range of different styles, sizes and colours. All can be personalised with your choice of name or design. These soft toys make a perfect Easter Bunny, New Baby Gift or even as a bridesmaid gift. We personalise our soft toys using either Embroidery, Vinyl or Sublimation.
If it's not a bunny you are looking to give as a baby gift then why not take a look at our personalised rag dolls. Rag dolls are available in a large range of outfits, which include ballerinas, brides, soldiers and angels.
Personalised Baby Blankets & Comforters
A baby gift that never fails to impress parents are a beautiful soft and cost baby blanket or comforter. Every new baby will have a baby blanket, so when asking yourself What to Buy as a Baby Gift? a personalised baby blanket will never fail.
A new baby will always need a blanket for when they're either in their pram, cot or moses basket so a personalised baby blanket would be the perfect baby gift for any new arrival. Our super soft cable knit blanket is one of our most popular sellers and can be embroidered with your choice of name in a wide range of thread colours. Alternatively if you're looking for something a little smaller then a baby comforter is perfect for babies little hands to cuddle on to. There are many different comfort blankets available. These include character blankets which will feature a bear, bunny or unicorn for example, or square taggie comforter blankets which are square in shape with ribbons around the edges which babies love playing with.
Hopefully we have given you a few ideas as to what to buy as a baby gift. We have many more special gifts available on our website so please feel free to take a look. We can always make custom items so if there is a special design you have in mind then please get in touch with us. We love making these special baby gifts.
Here are some reviews from our customers
"Have just bought two personalised bags for my boys and we love them always get comments on how nice they are, very good quality and perfect size for everything they need without having to take out a big changing bag. would definitely recommend and buy again xx"

Kerry Starks
"I recently used We Three Bears for some personalised items and can't recommend this company highly enough. Excellent service combined with a high quality produce – thank you so much!"

Kate Giddins
"Amazing company… Brilliant customer service alongside quality products.. Will order from them time and time again.. Also love that I can support a small, local family business.."

Lisa Quantrell